At one time or another, every homeowner has experienced being somewhere that had a musty area. The odor is unpleasant and there is a very real danger of breathing in mold or other allergens. It was conventional wisdom in the past to just have air vents on the exterior walls of the crawlspace to allow them to "breathe". We now know that this doesn't work and can, in fact, add to the humidity level.
Santa Fe Dehumidifiers for Crawlspace Moisture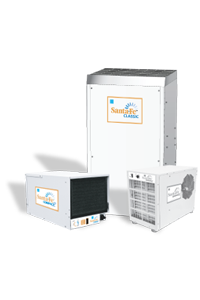 Residential ResQ proudly uses Santa Fe dehumidifiers from Earth Contact Products to help keep your crawlspace dry and usable. The line of dehumidifiers from ECP is unsurpassed in energy efficiency while offering superior durability and easy installation. Santa Fe dehumidifiers are designed, manufactured and serviced in the United States and will give you long-lasting service.
When used in conjunction with encapsulation by Residential ResQ, your crawlspace will be drier than it probably was when it was built. Your home's integrity and family's health is important to us, so give us a call today to see how we can control the humidity in your crawlspace. Our experts are looking forward to giving you a free inspection and estimate and getting to work making your home better than ever.