There are some advantages to using carbon fiber for your foundation repair needs. Rhino Carbon Fiber Wall Supports link the foundation base with the house frame. This is the strongest carbon fiber system on the market. There is no digging involved and is a lot cleaner than other methods. Carbon Fiber can be used in place of tiebacks and is quickly completed.
An expert installer from Residential ResQ will use a galvanized sill plate along with a pin anchored into the footer. By attaching the carbon fiber to the footer and sill plate, the stress on the foundation is evenly distributed. If you were to only apply the carbon fiber to the area that is bowing, the stress would just move to another section of the wall.
Carbon Fiber Installation
Prepare the foundation wall-remove all paint and caulk
Mark and drill holes in the sill plate for the tie
Attach sill plate tie to carbon fiber strip
Mount sill plate tie in pre-marked location
Epoxy carbon fiber strip to wall
Anchor carbon fiber pin to footer and epoxy in place
Carbon Fiber Bowing Wall Repair
Carbon Fiber Bowing Wall Repair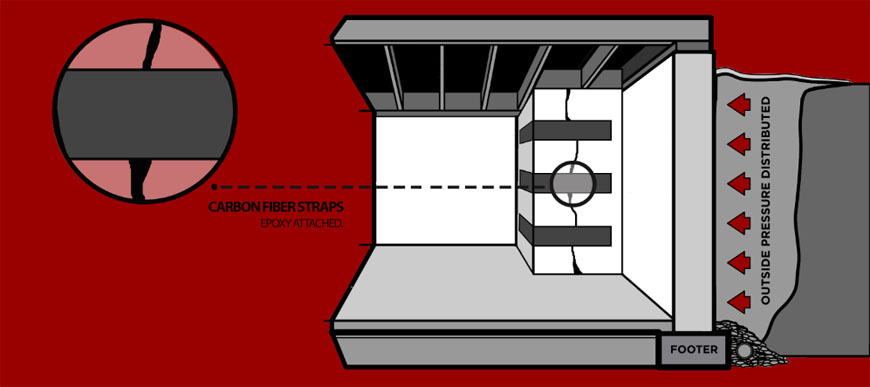 Contact our knowledgeable team of experts at Residential ResQ today to learn if carbon fiber is the solution for your home's situation. One of our professional inspectors will come out to your property and work with you on the best solution for your foundation repair needs.